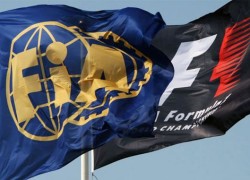 The FIA's World Motorsport Council, on Wednesday, ratified changes to the sporting and technical regulations for F1.
One of the changes that will be implemented is for cars to "have a separate exhaust wastegate tailpipe though which only wastegate exhaust gases must pass." This will not have any significant effect on the engines and will increase the noise of the cars.
Clarifications to the track limits rule have been made as well.
"Sporting Regulations regarding track limits have been clarified and specify that drivers "must make every reasonable effort to use the track at all times and may not deliberately leave the track without a justifiable reason", read a statement by the FIA following the WMSC meeting
"Penalties will still be allocated based on whether a driver is judged to have gained an advantage," the statement added.
Power unit regulations proposed by the F1 Commission have also been approved.
"The WMSC approved the proposal of the F1 Commission regarding regulations for power unit and gearbox changes.
"Such penalties prior to qualifying will be applied based on the time of use. For changes made after qualifying, preference will be given to the driver whose team first informed the technical delegate that a change will occur."
There was also a change to the aborted starts rule. Drivers must now start from the pit lane, even if they manage to get the car going for the second formation lap.
The regulations that specify the user of wind tunnels and CFD have been clarified.
"The WMSC confirmed a number of clarifications were made to aerodynamic testing restrictions for wind tunnel use and CFD, specifically focusing on reporting and inspection processes for these development tools."
Finally, the on board cameras on stalks on the nose of a car will be prohibited from 2017