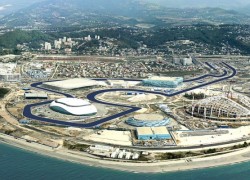 There are a couple of circuits on the Formula 1 calendar that can be depended on to deliver a cracking race. Brazil's Interlagos circuit delivers something dramatic and breathtaking almost every year. Then there are those that are as dull as mud such as Bahrain but the Sakhir circuit has transformed over the last couple of years thanks to its new night race status.
The F1 paddock has only been to Russia's Sochi circuit for the Russian GP once and although it's slightly unfair to judge it on the one race it's had so far, we will. The super smooth circuit delivered a bore fest of epic proportions in 2014. So 'grippy' was the circuit asphalt that Mercedes driver Nico Rosberg was able to run a set of tyres for 52 of the 53 racing laps without even a suggestion of an issue.
Pirelli isn't exactly our favourite tyre supplier at the moment; see previous rants for evidence, but what happened at the 2014 Russian GP wasn't entirely their fault. Despite the thousands of terabytes of data at their disposal they were not able to predict how the track would behave. Afterall, circuits are living things influenced by a bevy of variables that can only be calculated with factual data collected by cars running, consistently, on it.  In 2015, Pirelli has some tangible data and can therefore make a better informed choice. As a result the Italian tyre manufacturer is rolling out the red side-walled supersoft tyre for the Russian GP weekend.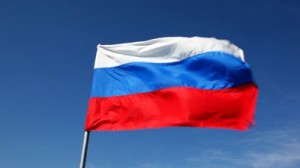 The Sochi Autodrom, thanks to its variety of corners, provides a technical challenge to the drivers. It's quite a long lap and a reasonably technical one too. "If you make a small mistake in one corner, you are punished for the rest of the lap," says Lotus driver Pastor Maldonado. "If you're off line for one corner, it might not be until one of the straights that you can recover. Off-line is very slippery too so you're doubly punished!"
The circuit, situated inside the Olympic Park, holds special memories for the Mercedes team who clinched the constructor's championship here last year. There are some fears that the street-style circuit and the presence of the supersoft tyre may combine for a repeat of the Singapore grand prix but nature of the Sochi Autodrom and the cooler temperature will play in the favour of Mercedes. The German team must outscore nearest rivals Ferrari by three points on Sunday to secure back-to-back constructor's titles.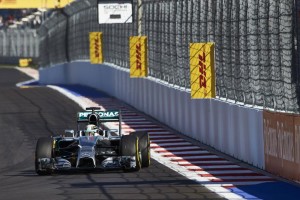 At the beginning of 2015 Nico Rosberg would have believed himself a match for Lewis Hamilton. Last year he bested his teammate in the qualifying battle and occasionally looked the part of true championship contender.  But twelve months later this theory has been de-bunked. Mind you, the 2015 season isn't over yet and much could still transpire between the Russian GP and the season finale.
All sorts of factors could conspire to stop Hamilton from claiming a third title. But there isn't a genuine feeling that Rosberg could be one of these factors. There isn't a bona fide threat that he is suddenly going to turn in to a Hamilton-beater and there never has been this season.  Rosberg must respond at the Russian GP with an emphatic, straight-out, victory against Hamilton and show that he isn't just a good driver in a great car.