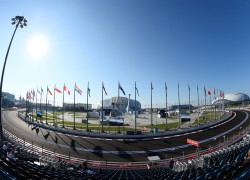 After a two week break the Formula 1 circus heads into Sochi, Russia for round 15 of the Formula 1 World Championship and the Russian Grand Prix.
The 5.848km circuit is situated withing the Sochi Olympic Park which was built to host the 2014 Winter Olympics and is the 3rd longest circuit on the F1 Calendar. There are 18 corners around the Sochi Autodrom that provide a good balance of high speed cornering with some very slow corners. The final sector is the slowest sector on the track with a series of 90 degree bends. Because of the flowing nature of some of the corners where the exit of one corner becomes the entry to another corner, drivers can be penalized quite heavily if they get their lines wrong.
The cars are set up for high down force because of the slow nature of the track and because of the smooth surface which is expected to be weathered this year, the drivers have to be very careful on the throttle out of the slow corners not to spin up the rears. The degradation is expected to be low despite the degradation of the circuit surface over the past year and with Pirelli going one step softer on tyre choice.
Coming into the race, Mercedes find themselves on the cusp of another constructors championship. They need to outscore Ferrari by three points this weekend and the title is theirs. Barring some reliability catastrophe, Mercedes should comfortably outscore Ferrari this weekend and walk away with the 2015 Constructors title. Mercedes have said that they're weary of the fact that the soft and super soft compound tyres, which Pirelli have nominated this year for the race weekend, may see them in a similar situation which seen them struggling behind Ferrari and Red Bull.
It should be business as usual this weekend with Mercedes out in front. The battle, will once again, be behind the Silver Arrows.
Broadcast times this weekend are back to normal albeit slightly earlier with the traditional morning practice sessions and afternoon qualifying and race.
All times are GMT+2
Free Practice 1: Friday 09:00
Free Practice 2: Friday 13:00
Free Practice 3: Saturday 11:00
Qualifying: Saturday 14:00
Race: Sunday 13:00