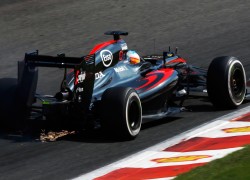 Honda have spent their remaining tokens for the seasons on upgrades to their power unit ahead of the Russian Grand Prix.
Because of time constraints, Honda were only able to bring one upgraded engine which will be fitted to Fernando Alonso's car. This will mean the Spaniard will more that likely start from the back of the grid for the race on Sunday.
Alonso will run a new internal combustion engine, a new turbo, a new MGU-H, a new energy store, and a new set of control electronics. So far this season, Alonso has used 9 internal combustion engines, 8 turbo chargers, 8 MGU-H's, 4 energy stores and 5 control electronics.
Honda plan to run the upgrades during free practice as a test before changing back to the previous engine which was used at the Japanese Grand Prix.
Jenson Button will run with the old engine and will have an upgraded unit at the next race in Austin, Texas for the United States Grand Prix.