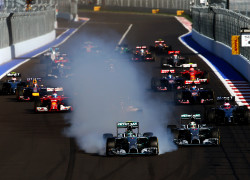 The Sochi Autodrom situated within the Sochi Olympic park plays host to the Russian Grand Prix and round 15 of the Formula 1 World Championship.
The track which was built within the Olympic Park is 5.848km long which makes it the third longest on the F1 calendar. The circuit has a good mix of corners which should put the tyres through their paces. With the track surface last year, teams could stop once in the race as the degradation was very low. Mercedes' Nico Rosberg managed 52 laps on his set of medium compound tyres after he stopped on lap 1 after locking up heavily into Turn 2.
Pirelli say the track surface is much the same as it was last year despite a very harsh winter. This could be one of the reasons Pirelli have decided to go one step softer on the tyres bringing the super soft(option) and soft(prime) compound tyres. This is to also increase the number of pit stops in the race.
The tyres will have to work particularly hard in the final sector where there are a series of 90-degree turns which require mechanical grip from the tyres.
The weather for Sochi this weekend is clear with some scattered clouds around. The crowd can look forward to a perfect autumn afternoon during qualifying and the race. It will be partly cloudy on Friday. The weather will clear up for Saturday and Sunday. We can expect temperatures between 17-19 degrees Celsius.