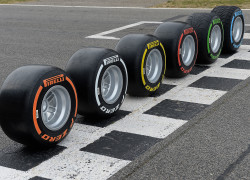 F1's official tyre supplier Pirelli, has announced the tyre choices for the upcoming Russian Grand Prix.
The Red Bull and Haas F1 teams have gone super aggressive with their selections – both choosing 10 sets of super-soft tyres per driver for the race weekend.
Teams are able to select 10 of the 13 sets of tyres available to them for the grand prix weekend with the remaining three sets being determined by Pirelli. The tyre manufacturer earmarks one set of each compound for the race weekend – in the case of the Russian GP, the medium, soft and super-soft tyres were chosen.
The Red Bull and Haas teams both chose 10 sets of super-softs per driver, with two sets of softs and one set of mediums each for the remainder of the weekend.
As was the case for the Chinese GP, tyre choices are very varied across the field with Ferrari being the only team to choose six softs and six super-softs.
In quite a contrast, Mercedes' tyre choices are for four sets of soft tyres and eight sets of super-softs. The Manor F1 team is the only team on the grid including more than one set of mediums in their tyre choices with Pascal Wehrlein & Rio Haryanto each getting five sets of softs and six sets of super soft tyres each.
Soft and medium tyres are usually allocated as race tyres (at least one of which must be used on race day). The new tyre rules which allow tyre choices for the drivers have been applauded for increasing the amount of differing tyre strategies available for a race weekend and are likely to remain for the foreseeable future.
In previous seasons, we've only seen two compounds available per race weekend. These tyre choices certainly make the forecasting on race weekend strategies a lot more interesting than we've seen in the recent past.
Below is the table of tyre choices as released by Pirelli: