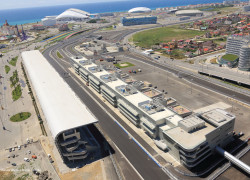 The Russian Grand Prix was moved up in 2016 and it's now Round 4 of the Formula 1 World Championship. The Sochi Autodrom is a semi permanent facility that was built as part of the Winter Olympics park. Built on the shores of the warm waters of the Black Sea the popular seaside area is being called the Russian Rivera.
The circuit hosts its third F1 Russian Grand Prix race in as many years. No major changes have been made to the layout of circuit and the low degradation characteristic of the asphalt seems to have remained over the years. The super soft, soft and medium compound tyre should throw up a few surprises although we may not see that many pit stops due to the low degradation levels.
With Nico Roaberg's championship lead at 36 points, his team mate Lewis Hamilton will need to put in a strong performance this weekend to show some intent. Red Bull put in a strong performance in China and would've had two cars on the podium had Daniel Ricciardo not suffered his puncture.
Ferrari will be looking over their shoulder a bit more after China while focusing their efforts chasing their first victory for 2016. Ferrari have pushed their engine development and are expected to debut their upgraded engine at the Russian Grand Prix weekend together with a new front wing in the hopes that it may bring the Scuderia their first win of the season.
Herewith your broadcast times for the 2016 Russian Grand Prix weekend:
| | | | | |
| --- | --- | --- | --- | --- |
| | CDT | GMT+2 | GMT | Local |
| Free Practice 1 | 04:00 (Fri) | 09:00 (Fri) | 07:00 (Fri) | 10:00 (Fri) |
| Free Practice 2 | 08:00 (Fri) | 13:00 (Fri) | 11:00 (Fri) | 14:00 (Fri) |
| Free Practice 3 | 06:00 (Sat) | 11:00 (Sat) | 09:00 (Sat) | 12:00 (Sat) |
| Qualifying | 09:00 (Sat) | 14:00 (Sat) | 12:00 (Sat) | 15:00 (Sat) |
| Race | 09:00 (Sun) | 14:00 (Sun) | 12:00 (Sun) | 15:00 (Sun) |