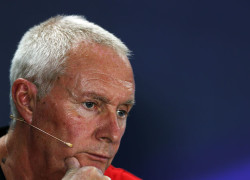 Former Manor team boss John Booth has joined the Toro Rosso Formula One team as Director of Racing, on a consultancy basis.
Booth left the Manor F1 team at the end of 2015 after differences of opinion with team owner Stephen Fitzpatrick. The two disagreed over the direction that the team was going. Since leaving the Manor's F1 outfit, Booth has since set up the Manor WEC team alongside Graeme Lowdon. He will remain in his WEC role while returning to Formula One in a consultancy role Toro Rosso.
"It is a great honour to join such a well-established and competitive team as Scuderia Toro Rosso," Booth said.
"It is a team that has achieved so much in a relatively short space of time. I am looking forward to getting started and working with Franz and the team this weekend in Sochi."
Toro Rosso team principal Franz Tost said: "I have known John [Booth] for many years and I am delighted to welcome him to the team. Formula 1 is becoming ever more complex, with recent changes on the tyre front, car set-up, radio communications and so forth. Therefore, having a competitive car and talented drivers, both of which we have, on its own is not enough. With his vast experience I am sure John will help the team raise its game and become a more effective force over a race weekend."