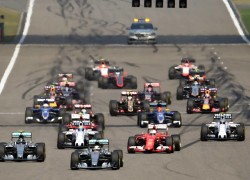 Members of the F1 Commission have until Friday to submit their fax vote concerning the 2017 engine regulations, according to a report on Autosport.
The F1 Commission and the F1 strategy group met on Tuesday to discuss the new 2017 engine rules, ahead of Saturday's deadline to have planned rule changes for 2017 finalised.
According to Autosport, the Strategy Group agreed on a proposal that addressed "the cost, availability of supply, noise and performance convergence of F1 engines".
The F1 Commission was however unable to vote as it did not have a quorum. A fax vote is currently being carried out in lieu of this. Members of the F1 Commission will have until lunchtime on Friday to cast their votes. It is expected that the proposal will get approval from the F1 Commission before being put before the World Motor Sport Council for ratification.