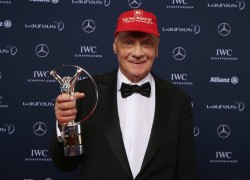 Three-time Formula One world champion and non-executive chairman of the Mercedes F1 team Niki Lauda was honoured with the lifetime achievement award at this year's Laureus World Sports Awards.
Lauda was presented with the award by Mercedes F1 team driver Lewis Hamilton and actor Daniel Bruhl, who played the role of Lauda in the 2013 film, 'Rush' about the 1976 Formula One season. It was the year of Lauda's close fight with James Hunt and his horrific crash at the German Grand Prix, which left him with severe burns.
Lauda remains the only driver to have won world championships for both of the sport's two most successful constructors, Ferrari and McLaren.
Lauda, who won the title in 1975, 1977 and 1984, said his award was a good reminder of the harder days he endured during his career.
Speaking at the ceremony, Lauda said: "Thank you very much for this award, I know it's very important. But I want to say one thing, I've seen a lot of people here winning and losing. So I'd like to dedicate this award to the losers.
"Because I can tell from my own experience, winning is one thing, but out of losing I always learned more for the future. So one grows stronger in losing.
"One thing that is really worrying me is the world is not turning in the right direction. But sport should be the best ambassador for the future generation to get us closer together again. This is really important for me."
Lauda's legend also includes what could perhaps be the most courageous comeback in sporting history, as he returned to racing just six weeks after suffering horrific burns and being read his last rites following the fiery crash at the Nurburgring in 1976.
Tennis ace Novak Djokovic received the World Sportsman of the Year award, which Hamilton had been nominated for. Toro Rosso star Max Verstappen had also been nominated for an award – the Breakthrough of the Year award – which went to golf's Jordan Spieth.