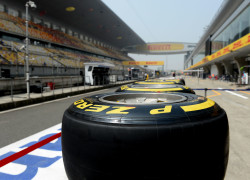 The 2016 Chinese grand prix delivered a plethora of tyre strategies as the drivers made their way through the 56 laps.
The compounds on offer for the race were the red-walled supersoft, yellow-walled soft, and the white-walled medium. It was evident from the long runs in Free Practice that the supersoft tyre would be the least desirable race tyre. Instead the soft tyre was the obvious choice to run the majority of the laps on.
Eventual pole-sitter Nico Rosberg set his fastest Q2 time on the soft tyre and ensured that he would start on the more durable tyre. However, this advantage was diminished with the safety-car deployment on lap four. It allowed drivers starting on the supersoft tyre a free pitstop to swop the fragile tyre for the more fancied soft compound.
Mercedes ensured that Lewis Hamilton wouldn't have to race the supersoft tyre by fitting the supersoft under the safety car and calling him straight back in to fit the soft tyre. Several drivers tried an elongated middle stint on the medium tyre but only Kimi Raikkonen was able to show a truly competitive pace on the white-walled compound. The Finn completed twenty-three laps on the medium compound and held off Lewis Hamilton who was on a set of softs.
Sebastian Vettel made the supersoft tyre work for him with a thirteen lap stint on the tyre. It allowed the Ferrari driver to scythe through the field and eventually recover to second place after twice sustaining front-wing damage.
Nico Rosberg stayed as far away from the supersofts as he could and ran a soft>soft>medium two stop race. Lewis Hamilton completed the most pitstops of the day with five visits to the pitlane.