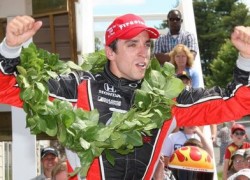 English IndyCar and former Formula One driver Justin Wilson died in hospital this morning, a day after suffering serious head injuries during a race.
Wilson, 37, had been in a coma after being struck by debris from the car of Sage Karam, who had spun into the wall further up the road during Sunday's IndyCar Series race at Pocono Speedway.
"This is a monumentally sad day for IndyCar and the motorsports community as a whole," said Mark Miles, chief executive of IndyCar series parent company Hulman and Co.
"Justin's elite ability to drive a race car was matched by his unwavering kindness, character and humility – which is what made him one of the most respected members of the paddock.
"As we know, the racing industry is one big family, and our efforts moving forward will be focused on rallying around Justin's family to ensure they get the support they need during this unbelievably difficult time."
Wilson's Andretti Autosport team also issued a statement, which read: "We are deeply saddened by the passing of Justin Wilson. He was a tremendous racer, a valuable member of the team and respected representative to our sport.
"While Justin was only part of the Andretti lineup for a short time, it only took a second for him to forever become part of the Andretti family.
"His life and racing career is a story of class and passion surpassed by none. Our thoughts and prayers remain with the Wilson family and fans worldwide.
"Godspeed, JW."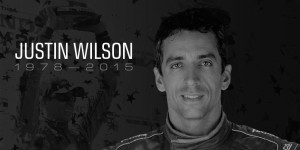 Justin Wilson drove for Minardi and Jaguar in 2003, but his tall 6ft 4in frame (he remains the tallest driver ever to have piloted a Formula One car) and lack of sponsorship cut his F1 career short. He did enjoy success in American open-wheel racing with stints in Champ Car (2004-2007) and IndyCar (2008-2015).
With head injuries being a sensitive subject in Formula One at the moment just six weeks after Jules Bianchi succumbed to he serious head injury he sustained at the 2014 Japanese Grand Prix, Wilson's death is another hefty blow for motor racing and hearts around paddock and pit garage are weighing very heavily. Seven time F1 world champion Michael Schumacher is also still continuing a long recovery from his serious head injury resulting from a skiing accident in December 2013.
There's been an outpouring of sadness and condolences for the loss and family of Justin Wilson from the Formula One community on Twitter.
Dreadful news from the U.S. this morning. Our deepest condolences to Justin's family & everyone at Andretti Autosport pic.twitter.com/gjjwAuJaHz

— Manor F1 Team (@ManorF1Team) August 25, 2015
Heartbreaking news about Justin Wilson's death. All our thoughts are with Julia, Stefan, the rest of the family and the @IndyCar community

— WILLIAMS RACING (@WilliamsRacing) August 25, 2015
Very sad news this morning, RIP Justin Wilson. My thoughts are with the family.

— Valtteri Bottas (@ValtteriBottas) August 25, 2015
#RIPJustinWilson Our thoughts are with your family and your loved ones

— Ferrari Races (@FerrariRaces) August 25, 2015
This is so sad, have no words… RIP Justin https://t.co/6JFblHIi28

— Jean-Eric Vergne (@JeanEricVergne) August 25, 2015
RIP Justin Wilson. All my thoughts and prayers for his family Let's be united and work for better safety. pic.twitter.com/QJMw1blsPw

— Esteban Gutierrez (@EstebanGtz) August 25, 2015
All at McLaren are deeply saddened to hear the news about Justin Wilson. Our thoughts are with his family and friends. #RIPJustinWilson

— McLaren (@McLarenF1) August 25, 2015
The motorsport World comes 2 a standstill once again. @justin_wilson was a great person & racing driver. My thoughts are with his family RIP

— Jenson Button (@JensonButton) August 25, 2015
I raced with Justin as far back as 1989 in Karting and remember his smile was infectious, such a lovely guy. #RIPJustin

— Jenson Button (@JensonButton) August 25, 2015
#RIPJustinWilson, my thoughts are with his family and friends. So sad, difficult to accept.

— Fernando Alonso (@alo_oficial) August 25, 2015
RIP Justin Wilson. A guy who had such great love for the sport. All my thoughts are with his family and friends in this tragic time.

— Kevin Magnussen (@KevinMagnussen) August 25, 2015
We are devastated by the terrible news of Justin Wilson's passing. Our thoughts are with Justin's family and friends in this moment. RIP.

— Sahara Force India (@ForceIndiaF1) August 25, 2015
Triste noticia perder a un compañero de Profesión! D.E.P Justin Wilson. Todos mis pensamientos con Tu… https://t.co/yMZi8hvBmi

— Sergio Pérez (@SChecoPerez) August 25, 2015
We knew him well, since 2003… @justin_wilson, you will be missed! All our thoughts are with his family. pic.twitter.com/HvqlHda8CH

— Toro Rosso (@ToroRossoSpy) August 25, 2015
Awful news for motor racing again… @justin_wilson you will be truly missed.. #BadassWilson

— Max Verstappen (@Max33Verstappen) August 25, 2015
Very very sad news to wake up to. RIP Justin Wilson. The motorsport world will trully miss you. Thoughts and prayers are with his family.

— Carlos Sainz (@carlosainz) August 25, 2015
Such sad news. Our deepest condolences go to Justin's family and all who knew & admired him. RIP Justin… https://t.co/i2e9Uo43H3

— Lotus F1 Team (@Lotus_F1Team) August 25, 2015
So sad to hear that Justin Wilson passed away. What a dreadful news and what a dramatic year for racing. Losing too many champions

— Romain Grosjean (@RGrosjean) August 25, 2015
Vuela alto amigo y descalza en paz #justinwilson ! Fly high my friend and rest in peace… https://t.co/hlSvOb0Ix4

— Pastor Maldonado (@Pastormaldo) August 25, 2015
With deep sadness, we take note of Justin Wilson's death. Our thoughts are with his family and friends #IndyCar #Motorsport #OneFamily

— Sauber F1 Team (@SauberF1Team) August 25, 2015
Extremely sad to hear that Justin Wilson has passed away. All my thoughts are with his family #RIPJustin

— Marcus Ericsson (@Ericsson_Marcus) August 25, 2015
Terrible news to hear that @justin_wilson has left us. Had the pleasure to meet him at Daytona and that smile will always be remembered.

— Felipe Nasr (@FelipeNasr) August 25, 2015
Terrible news to hear that @justin_wilson has left us. Had the pleasure to meet him at Daytona and that smile will always be remembered.

— Felipe Nasr (@FelipeNasr) August 25, 2015
Our thoughts today are with the family and friends of @justin_wilson. A great driver and an even greater man (1/2) pic.twitter.com/jDvIkfAGLs

— MERCEDES AMG F1 (@MercedesAMGF1) August 25, 2015
A tragic loss. All at the Team send their deepest condolences to Justin's family and friends at this time. pic.twitter.com/fidOOyzt5j

— Red Bull Racing (@redbullracing) August 25, 2015
This sport can be so damn harsh. It breaks my heart. I wish Justin's family all my love and support

— Daniel Ricciardo (@danielricciardo) August 25, 2015