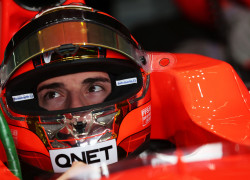 French Formula 1 driver Jules Bianchi has died at the young age of 25 after succumbing to his injuries sustained 9 months ago at the 2014 Japanese Grand Prix.
Bianchi crashed into a recovery vehicle that was recovering Adrian Sutil's Force India which crashed a lap before. He was rushed off to the Mie General Hospital where it was revealed that he had sustained a diffuse axonal injury. Bianchi was treated for his injury in Japan for a few weeks after which he was then moved to Le Centre Hospitalier Universitaire de Nice in the south of France where he lived out the rest of his days.
Bianchi is the first driver in 21 years to die from his racing injuries since Ayrton Senna's death at Imola in 1994
"Jules fought right to the very end, as he always did, but today his battle came to an end," said the Bianchi family.
Jules started his racing career in karting and in 2007 joined the SG Formula team in French Formula Renault 2.0. He finished the series as the champion with 5 wins to his name.
Late in 2007 he signed with ART Grand Prix and competed in the Formula 1 Euro Series. He stayed in Formula 3 in 2008 where he won the Masters of Formula 3.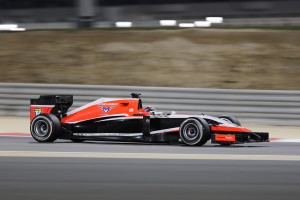 Throughout 2010 and 2011 he participated in GP2 with ART. While participating in GP2, the Ferrari announced him as their test and reserve driver for 2011. Bianchi became the first successful recruit of the Ferrari Driver Academy.  He tested for the team at the young driver test in Abu Dhabi. Bianchi also tested for Force India during 2012.
His big break in F1 came in 2013 when the Marussia F1 team – now Manor F1 – announced that he would replace Luiz Razia. In his first race for the team he finished in 15th place ahead of his team mate Max Chilton in 17th.
In 2014 he stamped his authority at the Marussia team as their No.1 driver after out qualifying and out pacing his team mate.
With just 34 races under his belt in Formula 1, Bianchi had shown that he was an extraordinary talent with Marussia. On many occasions he has out raced his team mate, Max Chilton, and was able to get more out of the car. His most impressive drive came in Monaco 2014 where he brought his Marussia home in 9th place earning the team their first points in F1.
It was never easy for Jules as he suffered many retirements during races but he had been noticed and and proved his worth in F1. Towards the end of the 2014 season there was talk about third drivers in F1 and it was then announced by former Ferrari Chairman Luca Di Montezemolo that Bianchi was tipped to be the third driver for Ferrari.
Since his death was announced there has been an outpouring of tributes from the F1 community all over the world with teams, drivers and fans expressing their sadness at Jules' death.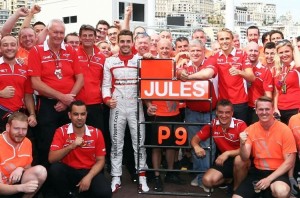 "We are devastated to lose Jules after such a hard-fought battle. It was a privilege to have him race for our team," tweeted the Manor F1 Team
Max Chilton tweeted: "No words can describe what his family & the sport have lost. All I can say it was a pleasure knowing & racing you."
"I have no words… We will miss you my old friend…," tweet Jean-Eric Vergne who is a close friend of Jules.
McLaren Driver, Jenson Button tweeted: "Last night we lost a truly great guy and a real fighter #RIPJules my sincerest Condolences to his family and friends."
Sky Sports F1 Commentator David Croft tweeted: "Rest In Peace Jules. Words can't describe the sadness this morning. It was a pleasure to have known you, even more to have watched you race."