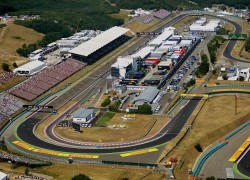 Round 10 of the Formula 1 World Championship heads to Hungaroring in Budapest for the Hungarian Grand Prix.
The week had begun on a rather somber note with the passing of Jules Bianchi. Bianchi finally succumbed to his injuries after a 9 month fight since his crash at the 2014 Japanese Grand Prix. An unbelievable talent taken away from us too soon.
The Hungaroring has been hosting F1 races since its inaugural race in March 1986. There have been a few modifications and upgrades made to the track but it has largely remained the same.
The track is is a medium-to-low speed circuit which needs a high downforce setup on the cars. The flowing nature of the track in the middle sector makes overtaking difficult as there is just one line drivers can follow through it. The most popular overtaking spot is down the pit straight with DRS into Turn 1. Some drivers have made some spectacular moves around the outside at the long left handed Turn 2.
Ahead of the race weekend a number of teams are expecting strong performances before the official F1 summer break. Ferrari have been saying that the warm temperatures favor the SF15-T and are expecting a strong performance from both of their drivers.
Williams are expecting a tough weekend as their car is more suited to high speed circuits. They have, however, taken steps to minimise the impact for the weekend.
McLaren's Fernando Alonso expects a much better second half to the season after a very difficult first half to the season. The team are planning big updates after the summer break.
Race times will be at the "normal" time for everyone in Europe and Africa. All times are GMT+2
Free Practice 1: Friday 10:00
Free Practice 2: Friday 14:00
Free Practice 3: Saturday 11:00
Qualifying: Saturday 14:00
Race: Sunday 14:00