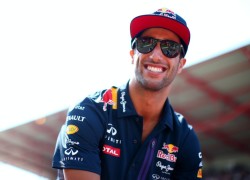 The Red Bull F1 Team preview the Abu Dhabi GP weekend
Daniel Ricciardo
"I think it [Abu Dhabi] really was my best weekend of 2014. It wasn't a win but I nailed qualifying, I nailed the race, I nailed the whole thing. Pace, consistency, everything was awesome and it got me from the back of the grid to fourth, so yes, in terms of pure performance, it was my best race.
"I like the last sector in particular because that turns it into an exciting track. It's twisty and you get right up close with the walls. You also have to contend with your tyres going off because the start of the lap is so fast – by the third sector you're really having to manage your rubber. It's… a challenge.
"I think starting in the sun and ending in the dark is pretty cool. Actually I think the whole atmosphere of the weekend is pretty cool. Lots of Aussies make the trip, lots of Europeans and there's a really good multicultural scene. Lots of boat parties in the marina, lots of fun. I do like Abu Dhabi."
"I generally enjoy most tracks and in one way or another they all have good associations but it's particularly the case at the Abu Dhabi Yas Marina because I won the GP3 championship there. I had a good qualifying there last year. I was fifth on the grid I think but the race didn't work out so well as I had to retire with an engine problem.
Still, it's been enjoyable. It's a good track to drive, even if it's one of the modern ones with the big run-off areas. It's very technical though and it takes some time to get your head around it. Do that and you'll get a good lap, but Abu Dhabi is not as easy as it looks."