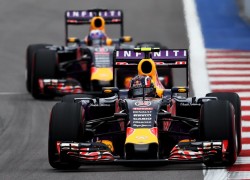 Red Bull Racing has finally confirmed that it has finalised a 2016 power unit supply deal.
After months of negotiating the Red Bull Racing F1 team has finally put pen to paper on a power unit for the 2016 season. After spectacularly falling out with Renault mid way through the season the team went shopping at Ferrari and Mercedes only to come up empty handed. A rumoured attempt at securing Honda power even made the rounds but eventually a reconciliation with Renault was the team's only option.
Despite not confirming that the soon to be announced deal is with Renault the French manufacturer is the only plausible supplier at this late stage.
"Next year will be a transitional year," Red Bull principal Christian Horner told Autosport. "We have an agreement with an engine [supplier] for next year which hopefully will be confirmed in the coming days."It will have a development path, which ironically, in a way, is what we were trying to achieve 12 months ago, and we'll see how that goes."