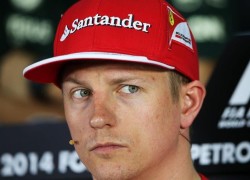 Kimi Raikkonen has been reprimanded by the Formula One race stewards for driving in a "potentially dangerous manner" in the pit lane during the second practice session ahead of this weekend's Bahrain Grand Prix.
Both Raikkonen and Mercedes driver Lewis Hamilton crossed the white line indicating two lanes in the pits, and cut behind a Sauber leaving the garage. This was after a brief red flag period during the practice session.
The FIA Stewards, including Mika Salo, decided that Raikkonen had driven in an unsafe manner stating that, "The driver of car 7 drove in a potentially dangerous manner when leaving the pitlane".
The action was found to be in contravention of Article 30.13 of the sporting regulations. The rule states that "at no time may a car be driven unnecessarily slowly, erratically or in a manner which could be deemed potentially dangerous to other drivers or any other person."
This is Raikkonen's first reprimand of the 2015 F1 season. Drivers who receive three reprimands will be handed a five place grid penalty.
Interestingly, there has been no word yet on any action against Lewis Hamilton. He was announced as being investigated alongside Raikkonen for the incident,
Following the session, Lewis spoke to reporters saying, "I don't really know too much about it. The rule is that you do your starts on the left and allow people to pass on the right. I saw Kimi was kind of blocked because there was a car coming out of the garage so Kimi went around him and I followed. I just went to the right. As far as I am aware, it was legal."