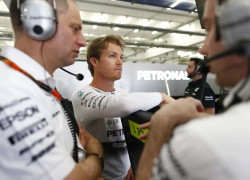 It was business as usual for Mercedes as Nico Rosberg went top of the time sheets in Free Practice 2 for the Bahrain Grand Prix.
Rosberg set a time of 1:34.647 to go fastest in the session in the option tyre. Hamilton set a time of 1:34.762 just 0.115s off Rosberg's time. He tried for the second time for a fastest lap but could not improve his time. He was straight into a long run after that.
Finishing in P3 and P4 was the Ferrari pair of Kimi Raikkonen and Sebastian Vettel. Both Ferrari's were out quite early on in the session on the options. Like Hamilton Vettel's lap was not as tidy as he would've wanted it to be. He ran wide at the exit of the final corner and lost some time. With Ferrari running the options early in the session is showed us that they're concentrating on the race and that they wanted to get their race setup optimised.
Finishing 5th was Valtteri Bottas for Williams with team mate Felipe Massa finishing further down the order in 10th. Daniel Ricciardo finished 7th fastest with a best time of 1:35.474.
Pastor Maldonado, in the Lotus, had a good session of running racking up a total of 34 laps for the session and finishing in P7 and Daniel Kvyat finishing in P9.
Fernando Alonso ended his session in 12th with a best time of 1:36.191. His team mate did not have the best of sessions after stopping out on track early on in the session. After getting his car back in the garage, the McLaren mechanics got him back out for some track time setting a best time of 1:39.209 which placed him 19th.
Towards the end of the session Vettel collided with Force India's Sergio Perez after exiting the pit lane. Perez was trying to get past a Sauber into T1 just as Vettel emerged from the pits.  As they went into T1 Perez clipped the the font wing of the Ferrari sending bits of front wing into the air. "I had a failure. I had a braking failure and f**king Perez took my wing off. Unbelievable!" said Vettel over the radio. The session was briefly red flagged to clear the debris off the track.
Just before the end of the session race control announced that Raikkonen and Hamilton will be investigated after the session for failing to leave the pits correctly. A replay showed that both drivers drove around the traffic at the pit exit as the session was restarted.
The long run pace revealed that Ferrari are marginally quicker than Mercedes. Williams are about 0.5s off the pace with Red Bull, Sauber and Lotus not far behind. As we seen in Malaysia, the warmer temperatures are suiting Ferrari.
Below is the full timing sheet for FP2: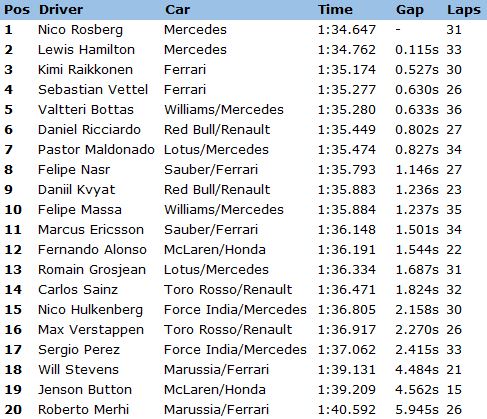 Photo Credit: Mercedes AMG Petronas F1 Team