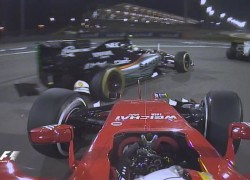 The FIA F1 Bahrain Grand Prix stewards have decided to take no further action against either Sebastian Vettel or Sergio Perez after the two drivers colllided during the second practice session ahead of this weekend's race at the Sakhir International Circuit.
With just over ten minutes remaining in the practice session, Vettel clipped the rear tyre of Perez's Force India while braking into Turn 1. Vettel suffered damage to his front wing and brought out a brief Red Flag. Sergio Perez had been fighting with Sauber's Marcus Ericsson for track position.
Vettel came over the teamradio saying, "I had a failure. I had a braking failure and f**king Perez took my wing off. Unbelievable!"
After investigating both drivers for the incident the Bahrain FIA race stewards said in a statement that "No further action is warranted. As no driver was determined to be wholly or predominantly to blame, the stewards decide that no further action should be taken."
"I came out of the garage and had a problem," Vettel said. "I hit the brakes but suddenly there was a blow and I couldn't brake properly. Therefore I hit Sergio Perez in the corner. Of course I'm sorry, but I couldn't do anything else in that moment. I was looking for Sergio to say sorry, but he was still sitting in the car."
Vettel had been seen to immediately head for the Force India garage to apologise to Perez following the incident.