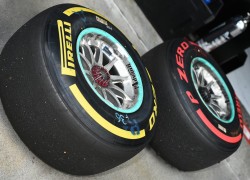 Pirelli has revealed the driver tyre choices for the upcoming Chinese Grand Prix and some interesting differences in tyre strategies have emerged.
Pirelli will be supplying the medium, soft and super-soft tyres for the race.
The two Mercedes drivers have made different tyre choices – indicating different strategies for the duo. Lewis Hamilton has chosen four sets of mediums – one more than his team mate Nico Rosberg. Both drivers have taken five sets of super-soft tyres with Rosberg taking an extra set of soft tyres.
Ferrari has opted for softer tyres, choosing six sets of super-softs, four sets of soft tyres and three sets of mediums for both of their drivers.
The Haas team is going aggressive again, choosing seven sets of super-softs, five softs and only one set of medium tyres. Both McLaren and Williams drivers have opted for the same tyre choices.
In contrast, the Sauber and Manor Formula One teams have have picked only four sets of super-softs with Sauber favouring the mediums, choosing five sets – more than any other team on the grid.
Carlos Sainz Jr has chosen the most soft tyres for the race, choosing six sets, with his Toro Rosso team mate Max Verstappen choosing an extra set of mediums instead.
Here is the full list of driver tyre choices for the Chinese Grand Prix: