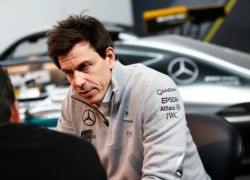 All eleven Formula One teams have taken a stand against the proposed aggregate F1 qualifying format, as well as the current elimination style F1 qualifying format, in a letter to F1 bosses.
It is reported that teams have unanimously demanded that the sport reverts to the 2015 F1 season qualifying format in an effort to do what they consider to be in the best interests of F1 fans and the sport in general.
The letter was sent F1 supremo Bernie Ecclestone, commercial rights holders CVC Capital Partners, and to FIA president Jean Todt. In the letter, teams unanimously reject the aggregate F1 qualifying format which was proposed at a meeting in Bahrain on Sunday between the teams, Ecclestone, Todt, and Pirelli motorsport director Paul Hembery.
Thusfar, Todt and Ecclestone have stood firm on their opinion that reverting to the F1 qualifying format used from the 2006 – 2015 Formula One seasons and have refused to put it back on the table to be voted upon. Both believe that since teams voted the current elimination style F1 qualifying format in, they will have to continue with it, or come up with an alternative solution. This despite the added opposition from drivers and F1 fans since the knockout format was introduced.
Given the strong opposition on both sides, it would seem we will be stuck with the elimination format for the Chinese Grand Prix, unless either side changes their position before the race weekend.
There has been no comment from Todt, Ecclestone, or CVC Capital following receipt of the letter as yet.