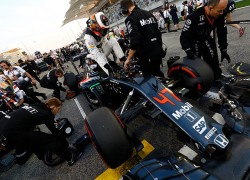 GP2 Champion and McLaren Reserve Driver Stoffel Vandoorne showed just what he is capable of on his debut F1 weekend.
Vandoorne, who stood in for Fernando Alonso after he was declared unfit to race by the FIA medical delegate on the Thursday ahead of the race, claimed the Woking based teams first points of the 2016 season with a 10th place finish at the Bahrain Grand Prix race.
The young Beligian was in Japan when he got the call to fill in for Alonso on Thursday evening. He was immediately on a flight and he was at the Bahrain International Circuit just before Free Practice 1. As F1 debuts go, this was not the ideal situation, but Vandoorne took his challenge head on and went with it.
With not much time to prepare he got in the car and finished 18th fastest in Free Practice 1. In Free Practice 2 he managed 11th fastest and 14th in Free Practice 3. After FP2 he remarked that he was comfortable in the car as soon as he climbed in. His qualifying performance was impressive. He out qualified his team-mate Jenson Button by going 12th fastest.
Come race day he did not have it easy at the start. He almost got caught up in the chaos after Williams' Valtteri Bottas tangled with Mercedes' Lewis Hamilton at the start of the race into Turn 1. A relatively aggressive strategy of soft-soft-super soft together with some good overtaking moves earned him 10th place and a world championship point.
"This result was more or less what I expected – I maximised the opportunity and I'm quite satisfied," said Vandoorne after the race on Sunday.
"The start was a little bit difficult. There was debris left and right – it was pretty hectic in fact – and there was a lot of fighting throughout that opening lap.
"Since the beginning of the weekend, I've felt very confident in the car, and pretty comfortable that I could do a good job.
"I'm pleased that I didn't make any mistakes operationally – I was really focusing on that side of things – and I came away with a point, which was a nice bonus.
"This weekend was a big opportunity for me: I made the most of it, I showed what I'm capable of, and now I just need to wait and see what happens next.
"That's not for me to decide – so let's see what the future brings."
The young Belgian may not have to wait too long as Button is out of contract at the end of the season.
Photo Credit: McLaren Honda Formula One Team