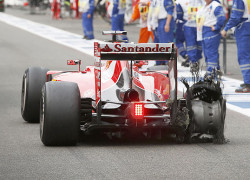 Pirelli Motorsport Director Paul Hembery has come out in defense of the Italian F1 tyre supplier saying that the tyre failure suffered by Ferrari's Sebastian Vettel was a result of excessive wear.
Vettel was on his way to a podium finish at the Belgian Grand Prix after starting in 8th position and two laps before the chequered flag he suffered from a tyre failure effectively ending his chances at a podium and his race. He was understandably livid after the race and hit out at Pirelli after the race.
Ferrari say that they were operating within the limits of the tyre and insist that they would have never chose a strategy if it risked the safety of a driver.
Hembery, after the race, hit back by saying that Ferrari had gambled on a 1-stop strategy and the tyre failure was due to excessive wear.
"It was at the end of wear-life," said Hembery. "Any tyre in the world, when it gets to the end of its wear-life, you're going to have a problem.
"[He did] 28 laps, it was more we thought the strategy would be based on two or three stops, as the majority did, but they clearly felt they could make it work on the one stop. They obviously felt that was feasible.
"Wear-life was indicated at around 40 laps, but it's an indication and race conditions can change that and some factors involved in racing mean that sometimes it's not a precise datum. Other teams were taking a different direction."
When asked if Vettel's tyre failure was similar to that of Nico Rosberg's who also suffered a tyre blow out during FP2 on Friday, Hembery said that Rosberg's tyre failure was a result of a cut whereas Vettel's was due to wear.
"Rosberg was an external cut; this was pure wear," he said. "The images show the carcass was still intact [on Vettel's blown tyre]. If the race was one lap less, he'd be on the podium and we'd be calling it a genius move – sometimes the margins are very fine. So it's tough."