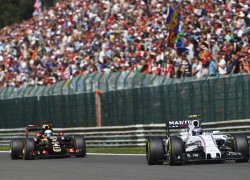 The Williams F1 Team have apologised to their driver Valtteri Bottas for the pit lane error which lead to a drive through penalty.
After loosing a few places in the opening laps of the race Bottas managed to stabilise his place and was running 6th before the first round of pit stops. He was called in to pit for a new set of options on lap 8. The pit stop went of smoothly but the Williams team fitted Bottas' car with three soft compound tyres and one medium compound tyre. He was handed a drive through penalty for the incorrect tyres which he took on lap 15. Bottas pitted again on lap 21 and finished the race in 9th.
When asked by Sky Sports F1 about the the incident, Head of Performance Engineering at Williams, Rob Smedley could not explain what had happened.
"I am clearly disappointed with what has happened to Valtteri," said the Briton.
"As a team we have made a mistake, and on behalf of the team I am very sorry that we cost him what could have been a podium position.
"There will be an investigation into the processes in place to understand what happened fully, and to put in place a procedure to stop this happening again."
When asked about how he felt about the incident, Bottas had this to say when talking to Autosport:
"It's very disappointing, I've never heard of anything like this happening.
"But what can you do? For sure that cost us a lot, looking at the times in the end without that penalty we might have been fifth or something as I was at the front of that pack.
"But our pace was not enough to be top three, which was our aim, so it was not our day."