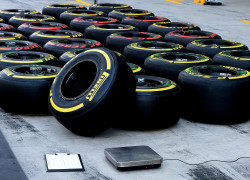 The hard tyre compound will make its debut at the Spanish Grand Prix for the 2016 season but non of the teams seem to favor it.
F1 tyre supplier Pirelli revealed the tyre choices for the drivers ahead of the Spanish Grand Prix which shows that the front running teams have chosen only one set of the hard compound tyre.
With the tyre choices we once again have a broad idea of the strategy that will be adopted by the teams. Mercedes, Ferrari, Williams, Renault and McLaren have all chosen one set for each of their drivers. Ferrari have one more set of the soft compound tyre than Mercedes and one less set of the medium compound.
Teams know the circuit very well as both rounds of winter testing was conducted at the Circuit de Catalunya. While temperatures are much warmer than in winter testing the teams also know which tyre performs the best on their cars.
While Spain has always been a relatively predictive race, this years tyre rules may make things interesting come race day.