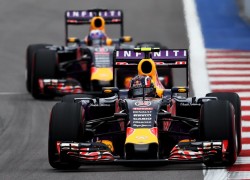 The Red Bull Racing team has announced that Max Verstappen will partner Daniel Ricciardo in its F1 team.
From the Spanish grand prix onwards teenager Verstappen will replace Russian driver Daniil Kyvat in the senior Red Bull team. Kyvat, meanwhile will return to the Toro Rosso team alongside Spain's Carlos Sainz Jr.
Christian Horner, team principal says: "Max has proven to be an outstanding young talent. His performance at Toro Rosso has been impressive so far and we are pleased to give him the opportunity to driver for Red Bull Racing."
"We are in the unique position to have all four drivers across Red Bull Racing and Toro Rosso under long term contracts with Red Bull, so we have the flexibility to move them between the two teams."
"Dany will be able to continue his development at Toro Rosso, in a team that he is familiar with, giving him the chance to regain his form and show his potential."
The move comes after a disastrous Russian grand prix in which Kyvat twice rammed into the back of Ferrari driver Sebastian Vettel.