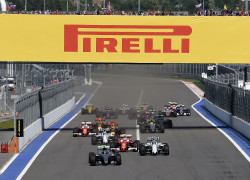 The 2016 Russian grand prix didn't play to varying tyre strategies as much as the first three races of the 2016 season.
The Sochi Autodrom brings with it a unique set of conditions for the Pirelli tyres. As the circuit is mainly un-used for the remainder of the year it's track surface is particularly kind to Pirelli rubber. The Italian tyre manufacturer arrived in Russia with the white-walled medium, yellow-walled soft, and red-walled supersoft tyres.
Owing to the lack of degradation most drivers were able to complete the 53 laps with a one-stop strategy. At the head of affairs Ferrari extended Kimi Raikkonen's first stint over on the supersoft tyres over Lewis Hamilton and Valtteri Bottas. The aim was to prize open a slight advantage over the two with whom Raikkonen had been keeping close company. Though the Ferrari driver was able to jump Bottas with this call Hamilton stayed ahead of Raikkonen thanks to a burst of three quick laps on new soft tyres.
Red Bull Racing's afternoon was compromised when Dannil Kyvat twice crashed into the back of the Ferrari of Sebastian Vettel. It resulted in damage and a forced pitstop for both Kyvat and Daniel Ricciardo. The Red Bull pitwall opted to fit the white-walled medium tyre and go to the chequered flag without another visit to the pitlane. While the medium compound survived for 52 laps on Kyvat's Red Bull the pace deficit to the soft, and supersoft, tyre meant he could make little to no headway.
Haas F1's Esteban Gutierrez also opted for to run the medium compound for 99% of the race without success and eventually finished eighteenth. Teammate Romain Grosjean opted for the favoured supersoft > soft strategy and ultimately finished eighth.
In hindsight, given the lack of degradation the spectacle would have been better served had Pirelli opted to bring the purple-walled ultrasoft compound to the Russian grand prix.