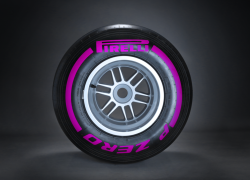 Pirelli have confirmed that it will run a 12-hour test in Abu Dhabi after the final race of the season.
The test is scheduled to run on Tuesday 1 December from 9am to 9pm and it will be dedicated to testing out slick tyres for the 2016 season.
Pirelli have asked the teams to run race or reserve drivers. A condition for the test is that teams will not be able to test new parts on the cars. This test will be exclusively for tyre development work. Participation for the test is not mandatory and teams will only need to have one car running for the test.
Pirelli will specify a test program for each car and will test the new Purple Ultra-soft compound that will be introduced in 2016 and it will also test the 2016 tyre construction.
The purple colour for the ultra-soft compound was chosen by fans on Pirelli's social media channels. 85% of fans voted for purple over silver.