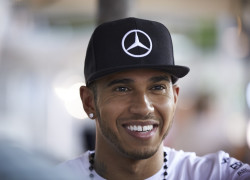 Mercedes driver Lewis Hamilton has stirred controversy after making comments about seven times world champion Michael Schumacher.
The newly crowned three-time world champion was quoted by Kolner Express, a German tabloid. "I've never done the things that Michael did to win my titles," Hamilton is quoted as saying. "I won mine with my natural abilities only," he continued.
The comments have drawn various comments from around social media and prompted a response from Reiner Ferling, the head of Schumacher's fan club. "He should learn about what Michael achieved. I just say, pride comes before a fall," said Ferling.
It isn't the first time that Hamilton's comments in relation to Schumacher has drawn the ire of fans. When asked about his view on Schumacher's skiing accident the Brit responded by saying that "all things happen for a reason." Fans of the injured driver didn't take to kindly to this statement either.
Lewis Hamilton- 'I never done things like Michael has done to win a championship'