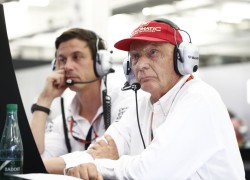 Mercedes team boss Niki Lauda has called on fellow big chief Toto Wolff to launch a full investigation into what he called an "unacceptable" strategy call by the Mercedes pit wall at the Monaco Grand Prix.
Hamilton had dominated for the majority of the Monaco GP but lost victory as a direct result of a completely unnecessary pit stop under a late safety car. Changing tyres saw Hamilton drop back behind both Mercedes team mate Nico Rosberg and Ferraris Sebastian Vettel. Lauda insisted that the mistake needs to be fully investigated by the team.
Lauda apologised to Hamilton and his engineers, "Honestly, I really feel sorry," he said. "I apologised, even to his engineers over there, because this is for me unacceptable.
"Nevertheless, Toto, I gave him the order to analyse it properly and see where the mistake was made. But absolutely the decision to bring him in was completely wrong."
Lauda said that there was confusion between Hamilton and the pit wall just before he pitted.
"I was listening to the talks – the talks were going forward and backwards – and there was too much confusion. In the end it was the wrong decision, no question about it."
Photo Credit: Niki Lauda, Toto Wolff – Mercedes AMG Petronas