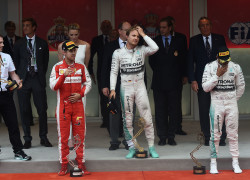 Mercedes Head of Motorsport Toto Wolff has apologised to Lewis Hamilton on behalf of the team following the late pit stop mistake at the Monaco Grand Prix.
Hamilton was leading the race when a late safety car was deployed because of Toro Rosso's Max Verstappen colliding with Lotus' Romain Grosjean. Initially the virtual safety car was deployed which meant drivers are to stick to a delta lap time. A short while after that the Safety Car was deployed. This prompted Mercedes to ready their pit crew for a pit stop. Hamilton, who had built up a considerable gap to second place man, Nico Rosberg, pitted under instruction from the team. The gap, which was anticipated to be enough for Hamilton to rejoin back in the lead was not large enough and when he emerged from the pits he lost two positions and was running in 3rd.
There was a bit of uncertainty between Ferrari's Sebastian Vettel and Hamilton as to who crossed the safety car line ahead at the exit of the pit lane. In the end, replay's showed Vettel crossing the safety car line ahead of Hamilton by about half a car length.
When the race ended Hamilton was distraught. He took his time returning to parc ferme and even pulled over at the Portier corner for a while. Supposedly to collect himself. He got going again and returned to parc ferme. On the podium he was visibly upset choosing not to say much in the podium interviews.
Toto Wolff, after the race, apologised to Hamilton said that they had got their maths wrong by miscalculating the gap between Hamilton and Rosberg.
"First of all, we must apologise to Lewis," said Wolff
"We win and we lose together and what I am proud of in this team is that we take collective responsibility," he added.
"But this is a day when we simply have to say sorry to our driver, because our mistake cost him the victory here.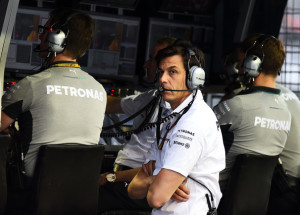 "What happened? In simple terms, we got our numbers wrong.
"We thought we had the gap for Lewis to take fresh tyres and come back out in the lead behind the Safety Car, ahead of Nico and covering off any risk of another competitor taking fresh tyres.
"But the calculation was incorrect and he came out in third place. It was our decision to call him in and our mistake, pure and simple; in these situations, a driver trusts his team.
Wolff lauded Hamilton for the sportsmanship he showed after the race.
"Lewis had driven flawlessly until then and really delivered a perfect weekend, with a stunning pole lap and a masterful race.
There's nothing more to say other than to highlight the grace with which he handled the situation; he was a leader and a true sportsman this afternoon."