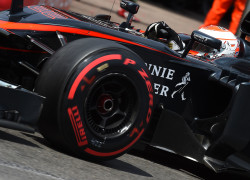 With Jenson Button finishing the Monaco Grand Prix in 8th position, the McLaren F1 team together with engine partner Honda have picked up their first points of the 2015 season.
McLaren racing director Eric Boullier has called it "a hugely positive step for the whole team" but he remains cautiously optimistic and says that there is still lots of progress to be made.
"Today, thanks to Jenson's eighth place, our renewed McLaren-Honda partnership was rewarded with its first world championship points – a result that underlines that steady improvement," said Boullier.
"Okay, we've now squirrelled away four world championship points, but, although Jenson drove very well, we won't waste time celebrating that milestone," he continued.
"Yes, it's encouraging, but our ambitions run to far greater heights than eighth places. And we'll achieve them, believe me."
Button said that he quite enjoyed the race today, although it was very tough physically, it was enjoyable out there for him. He was also very happy that he was able to secure McLaren's first points of the season.
"It's been a positive day for us. We were hoping to score a point today, and we scored four. I certainly didn't expect to finish eighth," commented Button after the race
"At the start I lost a position to Nico [Hulkenberg], but got it back by going around the outside of him at Turn Three on the first lap, which was good fun. Once I got past Pastor [Maldonado], my race was basically about turning quali lap after quali lap: it was flat-out.
"That was tough – in fact it was pretty physical out there – but I really enjoyed it.
"I'm really happy for the team – we've worked hard to get into this position, and they deserve this. We have work to do, but this is a hugely positive step for us."
Photo by courtesy Pirelli