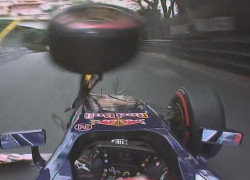 Max Verstappen has been handed a 5 place grid penalty for the Canadian Grand Prix for causing a collision with Lotus driver Romain Grosjean.
The Toro Rosso rookie started the Monaco Grand Prix from 9th place on the grid but lost a lot of time at his first stop. Verstappen was stationery for 31 seconds due to the right rear wheel not attaching properly.
Toro Rosso opted for another pit stop and switched Verstappen to the Option tyres. He made quick work of passing team mate Carlos Sainz Jr. and Valteri Bottas in his Williams.
The Dutch rookie announced over team radio that he was sticking to Vettel because the German lapping backmarkers was making it easy for him to pass his rivals on track. Something he should perhaps not have done since Lotus made quick work of warning Grosjean of the impending threat from Verstappen who by now was on the back of Vettel's gearbox on a shoestring.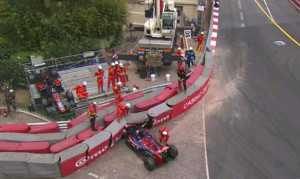 Young Max tried to pass Grosjean for 10th place but ran into the right rear of Grosjean's Lotus under braking at Ste Devote and headed straight on into the barriers. Grosjean was sent into a spin and the Safety Car was deployed.
The stewards judged that Verstappen was at fault and have handed in the grid penalty, as well as two points on his Super License.
Despite being hit with the penalty, Verstappen blames Grosjean for braking too late.
"The lap before I braked on the same spot as when I crashed," Verstappen said.
"But you could see when I braked the car ahead braked early and when you are going that speed and are quite close to each other you can't do anything, you don't expect them to brake early."
Verstappen will serve the 5 place grid penalty at the Canadian Grand Prix.