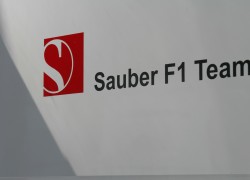 The Sauber Group have been acquired by Swiss finance company Longbow Finance S.A..
The deal which was signed on Tuesday 19 July by Peter Sauber and Monisha Kaltenborn. The deal will see Peter Sauber retire with Pascal Picci the current President and CEO of Longbow Finanace S.A take over as Chairman of Sauber Holdings A.G.

Kaltenborn will keep her seat on the board and will continue her role as CEO and Team Principal of Sauber.
"As a Swiss company, we are very pleased with having secured the future of a Swiss presence in a highly specialized and innovative industry," said Picci on the share purchase.
Monisha Kaltenborn had this to say about the new owners: ":"We are very pleased that by reaching an agreement with Longbow Finance S.A., we can secure the future of Sauber at the pinnacle of motorsport.
We are convinced that Longbow Finance S.A. is the perfect partner to again make the team competitive and successful in Formula 1.
At the same time the new structure will allow us to finally further expand our third party business in which we commercialise our know-how. This solution is in the best interest of our employees, partners, loyal suppliers, the base in Hinwil and for the Swiss motorsport.
We are very grateful that Longbow Finance S.A.believes in the competences, efficiency and capabilities of Sauber Group, and we look forward to a new exciting future."
Peter Sauber, President of the Board of Directors, Sauber Holding AG:
"Monisha Kaltenborn and I yesterday signed an agreement which secures the future of the Formula 1 Team and the Sauber Group.
I am very happy that my courageous investment to buy the team back, which I made six years ago, with the intention to secure the base in Hinwil and the place in Formula 1 has proved to be correct."