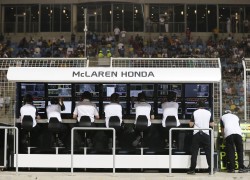 The FIA has made changes to the radio regulations ahead of this weekend's Hungarian Grand Prix.
The changes come after Nico Rosberg was given a 10-second time penalty after the British Grand Prix when his race engineer instructed him on how to drive around his gearbox problem during the race.
The FIA have now issued a new directive to teams regarding radio regulations which tightens up the rules slightly. The big change to the rules is that race engineers will be allowed to instruct drivers on setting changes but this has to be done when the driver is in the pit lane only. The regulation regarding radio communication in the pit lane has also been altered in this regard. Previously race engineers were only allowed to give instructions when the driver was in his garage. Communications are now allowed until the driver has exited the pit lane.
The section regarding instructions now reads: "Indication of a problem with the car. Any message of this sort must include an irreversible instruction to enter the pits to rectify the problem or to retire the car."
Another change was made to the regulation regarding a damaged car. Previously drivers were told exactly which component on the car was damaged. Under the revised directives, the race engineer is only allowed to warn the driver of damage to the car and cannot state which part of the car is damaged.
On the issue of car settings, engineers are now allowed to inform the driver of a setting change "for the sole purpose of mitigating loss of function of a sensor, actuator or controller whose degradation or failure was not detected and handled by the on-board software."