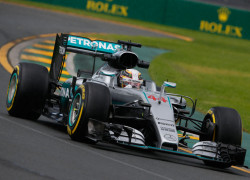 Mercedes driver Lewis Hamilton will take a 5-place grid drop on Sunday's race for the Chinese Grand Prix after a gearbox change.
This after Mercedes examined his gearbox after the Bahrain Grand Prix and found it had taken some damage. To be on the safe side Mercedes decided to replace his gearbox to give him the best change at a shot at victory on Sunday.
The team decided that it would be less of a risk to take the penalty early in the season and in China where there are many overtaking opportunities for Hamilton to make up places.