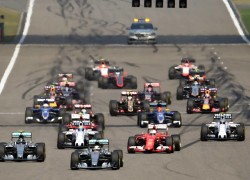 Round three of the Formula 1 World Championship is already upon us and this weekend we are in Shanghai China for the 13th iteration of the Chinese Grand Prix.
With it's inaugural race in 2004 which saw over 250 000 people fill the grand stands, the Shanghai International Circuit has been a yearly feature on the F1 calendar every since. The track layout was inspired by the Chinese character Shang(上) and was designed by Herman Tilke. It features a classic Tilke trademark of a long straight followed by a hairpin.
Being a front limited circuit it puts emphasis on front end grip and with the super soft, soft and medium compound tyres made available by Pirelli we can expect quite a few different strategies. Some teams have gone quite aggressive in their tyre selection choosing more super soft compound tyres.
Coming off the back of a victory at the Bahrain Grand Prix where he made it five wins in a row, Nico Rosberg will want to keep that going to take 6 wins on the trot and further consolidate his lead in the championship. His Mercedes team-mate Lewis Hamilton will be at a slight disadvantage from the start after he was handed a 5-place grid penalty for a gearbox change.
Ferrari are looking for a good result following their race of mixed feelings after Bahrain. The battle in the midfield is heating up and we're only three races into the season. The big surprise is Haas F1 who have secured two solid points finishes in two races. A fairy tale start for the team from Kannapolis.
With the race in China we have a mixed set of times this weekend with late nights and early mornings on the cards.
| | | | | |
| --- | --- | --- | --- | --- |
| | US Central | GMT+2 | GMT | Local |
| Free Practice 1 | 21:00 (Thur) | 04:00 (Fri) | 02:00 (Fri) | 10:00 (Fri) |
| Free Practice 2 | 01:00 (Fri) | 08:00 (Fri) | 06:00 (Fri) | 14:00 (Fri) |
| Free Practice 3 | 23:00 (Fri) | 06:00 (Sat) | 04:00 (Sat) | 12:00 (Sat) |
| Qualifying | 02:00 (Sat) | 09:00 (Sat) | 07:00 (Sat) | 15:00 (Sat) |
| Race | 01:00 (Sun) | 08:00 (Sun) | 06:00 (Sun) | 14:00 (Sun) |