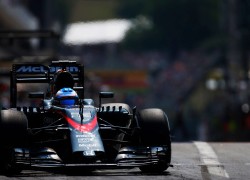 McLaren Driver Fernando Alonso has been cleared to race at this weekend's Chinese Grand Prix.
Alonso had to watch the Bahrain Grand Prix from the pit garage after FIA doctors declared him unfit to race due to inconclusive scans. McLaren flew in their reserve driver Stoffel Vandoorne to take his place.
During the course of the weekend, however, McLaren tried every avenue they could find to get the FIA doctors to clear the Spaniard to race but they were unsuccessful in their attempts.
After a medical check up at the Shanghai International Circuit's medical centre on Thursday, the FIA medical delegates gave Alonso the all clear to race. There was however a condition attached to it. He has to undergo further tests after FP1 to determine if he is fit to participate for the rest of the weekend.
Before the FIA reached their conclusion Alonso said that he felt good about participating this weekend.
FIA Statement:
"Since the accident at the Australian Grand Prix, McLaren Honda Formula 1 Team driver Fernando Alonso has been undergoing the process of "Reintegration" in accordance with Chapter II of Appendix L of the International Sporting Code. McLaren Honda have applied for Alonso to participate in the 2016 Chinese Grand Prix.
As the injury to the driver was discovered some days after the Australian Grand Prix, the Reintegration does not strictly fall within the text of the Appendix. Therefore, the Stewards have taken advice from the FIA Medical Delegate, who in consultation with the Chief Medical Officer (CMO) of the Chinese Grand Prix and the driver's doctors advise that he considers the driver provisionally fit to take part in the event. Given the exceptional circumstances, and having heard from the team, the Stewards have decided to exempt the driver from strict compliance with Art. 3(b) of Chapter II of Appendix L, relying instead on Art. 3(a) which has been satisfied.
Therefore driver Fernando Alonso will be allowed to participate, subject to the provision below.
The driver has been given directions by the FIA Medical Delegate and CMO which he is to follow (Art. 12.1.1.i of the International Sporting Code.) Further, in accordance with Art. 22.14 of the Formula One Sporting Regulations, he is instructed by the FIA Medical Delegate and CMO to undergo a further examination immediately following FP1 to determine his further eligibility to take part in the remainder of the Event"