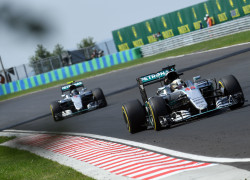 Mercedes team-mates Lewis Hamilton and Nico Rosberg were at odds with each other regarding yellow flag rules over the incident in qualifying which saw Hamilton back out of his lap because of a spin from McLaren's Fernando Alonso and Nico Rosberg taking pole position.
In the race, Hamilton took the lead from Turn 1 and finished the race in 1st place with Rosberg making it a Mercedes 1-2.
A good day at the office for Mercedes then. A dominant performance in Free Practice and Qualifying, and other run away win in the race with Red Bull's Daniel Ricciardo finishing 25-seconds from Rosberg in 3rd.
Hamilton, who was one point behind championship leader Rosberg before the Hungarian Grand Prix is now 6 points ahead in the point standings.
When asked in the post race press conference if he had influenced a stewards decision to investigate Rosberg for ignoring yellow flags, Hamilton said that the rules need to be clarified in that respect as this had set a new precedent going forward.
"Well the stewards needs to come up with some kind of solution because it is… the whole 23 years of racing, it has been 'if it's yellow flag, you slow down' and if it's double yellow flag, you be prepared to stop and Nico was doing the same speed at the apex as I was doing on the previous timed lap," explained Hamilton.
"If there happened to be a car that was spun or a marshal on the track, it would have been pretty hard for him to have slowed down in that case, so that's why… and the fact that he didn't get penalised for it means that we need to be careful because the message we're sending not only to the drivers here but also to the drivers in the lower categories is that it's now possible for you to lose only one tenth of a second in a double waved yellow flag section which is the most dangerous – one of the most dangerous scenarios with the double yellow flags," he continued.
"They need to clear that up because before it was two tenths that you were meant to lose with one yellow flag and half a second with two yellow flags. It wasn't the case yesterday and there was no penalty, so going into the next race, we could be battling for pole position and we see double yellow flags and we know we only have to do a small lift and lose one tenth of a second and we'll be fine and go purple in the sector.
"So that's why it does need to be clarified and I'm sure Charlie and the stewards are going to do so because it needs to be clear."
Sitting next to him, Rosberg waited for his turn and asked to reply before anyone else could get a word in.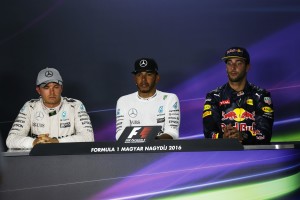 "Thank you very much. Thank you for making that statement, so now I'm going to put my response," he said as he extended an arm towards Hamilton to offer a pat on the back.
"What you have to do with a double yellow is significantly reduce your speed and make sure you go safe. I went twenty kilometres per hour slower into that corner, twenty kilometres per hour is a different world in an F1 car. Twenty kilometres per hour, you are going proper slow. It's completely… everything is safe.
"That's how I did my speed and lifted off thirty meters before my braking point, so I was just rolling there, twenty kilometres per hour slower until I got to the apex. Then of course when you're in the apex, I would have a much tighter line because I went in slow and then so I could accelerate out again.
"So definitely I significantly reduced my speed and that's what it says you need to do and that's why for the stewards that was completely acceptable. It was very very obvious what I did, very clear and of course on a drying track you're going to get massively faster every lap," he added as an explanation to setting a purple sector even though there were double waved yellows out.
"It's not like the track was consistent. On a drying track, it's irrelevant what the sector time was because you're going to get so much quicker every time you go out there because there's wet patches and when they dry, you just go so much quicker.
"And so in that segment, I was slower, where there was the yellow flag but of course in the big sector, yeah, I'm quicker because the track is getting quicker and I'm pushing in all the other corners.
"So it was a pretty clear case for the stewards and that's why I didn't get any penalty."
Both Hamilton and Rosberg are not wrong in their viewpoints. The stewards ultimately decided not to penalize Rosberg as telemetry had showed that he had slowed down enough.
So what happens going forward? Hamilton's point of this decision setting a precedent was echoed by Red Bull Team Principal, Christian Horner.
We need to see what the stewards will do the next time a driver sets a fastest sector through a yellow flag zone. The stewards base their decisions on the merits of each case, and with different stewards for each Grand Prix, there is almost no consistency in the decisions.
Another question arises from this whole situation. Why did Hamilton choose to take this public? In a typical situation this would be discussed at the team debrief after a session. Is Hamilton playing mind games?