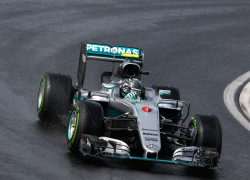 The stewards have ruled that Nico Rosberg did, in fact, slow down for the yellow flags in qualifying and will keep pole position for the Hungarian Grand Prix.
Rosberg was called to stewards late on Saturday evening after an alleged breach of Appendix H, Article 2.4.5.1 b) of the FIA Sporting Regulations. It was alleged that Rosberg did not slow down for the yellow flags at Turn 9 in Q3 after McLaren's Fernando Alonso spun and came to a stop with his car partially on the track.
Rosberg's team-mate Lewis Hamilton was on a flying lap and the yellow flags meant that he had to back out of the lap. By the time Rosberg had reached Turn 9, Alonso had already cleared the area and was on his way back to the pits. The yellow flag conditions, however, persisted. When Rosberg had reached T9, the yellow flags were still out. On board shots of Rosberg going through Turns 8 and 9 showed that he had lifted off.
The stewards ruled that no further action should be taken on Rosberg as telemetry had showed that he had slowed down.
In a statement the stewards said: "The telemetry demonstrated that the driver reduced speed significantly into turn 8."
Photo credit: Mercedes AMG Petronas Formula One Team