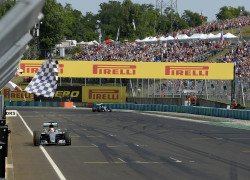 The Hungarian grand prix marked the theoretical mid point of the 2016 season. Yet, after ten races a singular point was all that divided Nico Rosberg and Lewis Hamilton in the championship fight.
Throughout the weekend's practice sessions and qualifying it was Rosberg who looked most comfortable. But it wasn't long before Hamilton got the drop on his pole-starting teammate and seized the lead of the race. Although it was not as dominant a drive from Hamilton he always maintained a big enough gap to Rosberg to ensure his fifth win around the Hungaroring.
The Silver Arrows held a distinct pace advantage over the rest and were hardly challenged by third placed Daniel Ricciardo. The Red Bull driver threatened Rosberg's second place by momentarily closing the gap to 4.5 seconds in the second half of the race but couldn't make any further impression.
The embattled Ferrari's ran better in race trim but still fell short of reaching the podium. Sebastian Vettel, who started fifth, closed to within half a second of Ricciardo as the race drew to its ends but was unable to overtake on the notoriously difficult Hungaroring.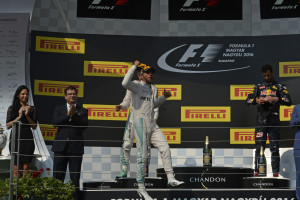 Max Verstappen and Kimi Raikkonen were embroiled in a fight for fifth towards the end of the race. Verstappen managed to hold off Raikkonen who started 14th after a timing error on Saturday. However, the manner in which Verstappen defended his position was questionable, at best. In trying to keep Raikkonen at bay Verstappen changed direction twice which is prohibited under FIA regulations. While stewards saw no cause for investigation the young Red Bull driver's actions was met with scorn on social media.  Raikkonen eventually brought the Ferrari home in sixth and set the fastest lap of the race.
Although a fair distance adrift Fernando Alonso scored some points for the McLaren in a legitimate seventh place ahead Carlos Sainz in the Toro Rosso and the Williams of Valterri Bottas. The final point went to a rather anonymous Nico Hulkenberg as the only retirement of the day came in the form of a Jenson Button whose McLaren suffered an oil leak.
Lewis Hamilton landed a hammer blow as he not only secured a fifth win at the Hungaroring but with it took over the lead in the driver's championship. By successfully overcoming a 43 point deficit it also strikes a significant psychological blow to Nico Rosberg. Remarkably, the battle for championship glory is far from over and has all the possibility of turning on its head once more as ten races still remain on the 2016 calendar.
(All images courtesy of Pirelli Motorsport)