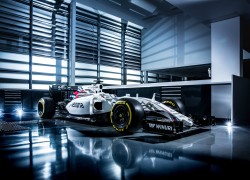 The Williams F1 team have unveiled their 2016 Formula One season challenger, releasing images of their Mercedes-powered FW38, ahead of the first pre-season test in Spain next week.
The team had promised that the 2016 car would be "significantly different". The FW38 still sports a very familiar nose and the livery is also mostly unchanged but the sidepods and rear do appear to have had some facelifting. More updates are scheduled to come ahead of the first race in Melbourne with Deputy team principal Claire Williams insisting that the FW38 launched today is "by no means the final product".
Valtteri Bottas will debut the car in the pit lane at the Circuit de Barcelona-Catalunya at the pre-season test, before handing over to team-mate Felipe Massa in the second half of the week.
The FW38 will once again be powered by a Mercedes engine – a significant factor in the team's two third-place finishes in the Formula One Constructors' Championship over the last two years. The FW38 will retain its Martini sponsorship. The team are confident that the FW38 can deliver what it takes to challenge the front running teams.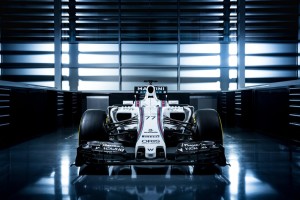 "Williams has started to cement our position back amongst the front running teams after finishing third in the Championship in the past two seasons," said Williams Team Principal Sir Frank Williams.
"This has been a great achievement given the resources of those around us. Staying where we are will be a challenge in itself, but we are determined to keep improving because only winning will ever be good enough.
"We have a very stable team going into 2016, with Felipe [Massa] and Valtteri [Bottas] teaming up for a third successive season. They work well together and both have the ideal blend of speed and consistency. Our technical team has also remained very consistent which will be to our advantage and we have some of the best engineering minds on the grid at our disposal.
"We have a busy couple of weeks of testing coming up to learn more about our package and to refine the car ahead of the first race. We will have to wait until Melbourne to find out exactly where we stand in the pecking order but I'm confident that our hard work over the winter will stand us in good stead."
Deputy team principal Claire Williams added: "2016 promises to be a very competitive year in Formula One and there will be a number of strong teams who have us in their sights. We are confident that we have made a step forward over the winter and that the FW38 will build on the strengths of the FW37 and address some of its weaknesses. We started design work on the car earlier than normal and hopefully this extra development time will stand us in good stead.
"The car we are launching today is by no means the final product. We are already planning updates for Melbourne and will be pushing for constant improvements over the course of the season. Williams enters 2016 in a strong place. We have a great team of people and over the past two years we have started to regain our competitive edge. Now we need to build on that and take this team back to where we all want it to be."
Photo Credits: FW38 images courtesy of Williams Martini Racing