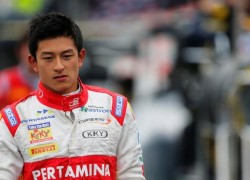 The new look Manor F1 team completed its line up for the 2016 season by announcing the signing of 23-year old Indonesian driver Rio Haryanto.
Haryanto competed in many single seater series and most recently in GP2. He will get his first crack at the Manor MRT05 at next weeks first pre-season test.
"We are delighted to announce Rio as our second race driver for 2016," said Manor Racing Owner Spehen Fitzpatrick.
"Rio's been racing since he first got into a kart at six years old. He's tenacious on and off the track and made a big impression on last year's GP2 battle.
"Rio's huge following in Indonesia is great for the team and for F1. They are keen to see him on the grid and we're confident that we'll see him enjoying some exciting battles in the year ahead."
Haryanto had this to say about his signing: "Manor Racing is a team with an exciting vision and ambitious plans. They have produced a great package and I can't wait to get in the car.
"Melbourne will be a huge moment for me, my country, supporters and fans and I want to thank everyone who's been with me since I started in single seaters; 2016 is my chance to reward that faith and represent Asia in F1."