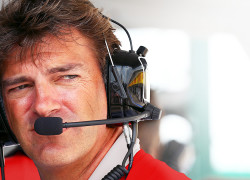 Manor Formula 1 Team's Sporting Director Graeme Lowdon has confirmed on Friday afternoon that he will leave the team at the end of the season with the Abu Dhabi Grand Prix being his final outing with the team.
It was reported last month at the Russian Grand Prix that Lowdon and Team Principal John Booth had both resigned from the team after differences in opinion with new team owner Stephen Fitzpatrick.
Fitzpatrick rescued Manor from near collapse last year after the team went into administration. Both Lowdon and Booth were key in building the team back up and for keeping it going throughout 2015. Most recently Manor were able to secure an engine deal with Mercedes for 2016 which will put it in a good position for next year.
Speaking at the team representatives press conference after Free Practice 2, Lowdon took the opportunity to announce his resignation and spoke about the task of building the team back up again. He made special mention to Bernie Ecclestone, FIA President Jean Todt and Ferrari's James Allisson.
"Abu Dhabi is going to be my last race with the team," said Lowdon
"Rather than focus on the reasons why, I prefer to focus on the fact the most important task this year was to make sure that the team continued racing.
"That required a lot of hard work and a lot of commitment as well.
"My belief in the team at that stage never wavered once, and we worked very hard to make sure the team was in a position to continue.
"In that period – November, December, January – we received a lot of help from [F1 boss] Bernie Ecclestone in particular, also from Jean Todt"
"I have to say everybody involved in the governance side and commercial rights side were constructive during the whole period and the team wouldn't have survived without that input.
"Also from Ferrari, who were really instrumental not just in the team being able to survive with the engine deal at short notice but also from very first race, the commitment from James Allison in particular.
"He had a very public task at Ferrari, to ensure the team was in a good position.
"From our point of view, as a customer team, we received some pivotal support from him.
"And of course the staff at the team. We had to get the team back together very quickly.
"That wouldn't have happened had we not been able to attract a lot of the same faces back who were with the team in previous years.
"That was extremely important as well. A lot of things had to come together.
"This has been a pretty difficult season but that is secondary to the fact the team continues and that is the most important thing."