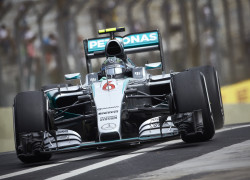 Nico Rosberg ended of Friday's 2nd Free Practice session on top of the time sheets ahead of Mercedes Team mate Lewis Hamilton for the Brazilian Grand Prix at the Autodromo Jose Carlos Pace.
Rosberg set a time of 1:12.385 which seen him go almost half a second clear of Hamilton who clocked in the second fastest time of the session of 1:12.843, 0.458s slower. Ferrari's Sebastian Vettel was third fastest of the session almost a second down from Rosberg with a 1:13.345.
With an 80% chance of rain forecast ahead of the sessions the drivers were keen to make the most of the session which got off to a very busy start. There were spots of rain that threatened to turn into a full blown shower but it never materialised and it was never wet enough for intermediate tyres let alone dry tyres.
At the beginning of the session drivers complained about the lack of grip. A few drivers were caught out by the slippery conditions which seen them spinning off the track.
There was only one casualty from the session and it came courtesy of McLaren's Fernando Alonso who suffered from an engine component failure. Alonso's car was seen spitting flames and billowing smoke from the back of his MP4-30. This halted the session to allow the marshals to recover Alonso's car. The session was restarted 10mins later where Rosberg set his fastest time of the session.
Kimi Raikkonen finished the session 4th fastest for Ferrari after troubles with rear grip and a dragging clutch later in the session. Daniel Ricciardo, who takes a 10-place grid drop after fitting the updated Renault engine, finished the session 5th fastest 0.085s off Raikkonen's pace. Some encouraging news for Red Bull and Renault.
Valtteri Bottas finished the session in 6th for Williams. The stewards announced after the session that he was under investigation for overtaking under red flag conditions when Alonso stopped on track. Romain Grosjean finished his session 7th fastest with Nico Hulkenberg 8th fastest for Force India.
Daniil Kyat ended his session 9th with Felipe Massa rounding out the top 10.
Finishing 11th fastest was Sergio Perez with Pastor Maldonado in 12. Felipe Nasr in the Sauber ended his session in 13th. The two Toro Rosso's of Max Verstappen and Carlos Sainz finished 14th and 15th respectively.
Jenson Button was 16th fastest with Marcus Ericsson in the second Sauber in 17th. Alonso, before retiring from the session, managed to set a time of 1:15.129 quite early on in the session which put him in 18th.
Will Stevens finished ahead of Alexander Rossi in the battle of the Manor team mates.
| | | | | | |
| --- | --- | --- | --- | --- | --- |
| Pos. | Driver | Car | Time | Gap | Laps |
| 1 | Nico Rosberg | Mercedes | 1:12.385 | – | 42 |
| 2 | Lewis Hamilton | Mercedes | 1:12.843 | +0.458 | 39 |
| 3 | Sebastian Vettel | Ferrari | 1:13.345 | +0.960 | 41 |
| 4 | Kimi Raikkonen | Ferrari | 1:13.500 | +1.115 | 43 |
| 5 | Daniel Ricciardo | Red Bull | 1:13.585 | +1.200 | 39 |
| 6 | Valtteri Bottas | Williams | 1:13.603 | +1.218 | 37 |
| 7 | Romain Grosjean | Lotus | 1:13.634 | +1.249 | 45 |
| 8 | Nico Hulkenberg | Force India | 1:13.710 | +1.325 | 43 |
| 9 | Daniil Kvyat | Red Bull | 1:13.848 | +1.463 | 40 |
| 10 | Felipe Massa | Williams | 1:13.870 | +1.485 | 42 |
| 11 | Sergio Perez | Force India | 1:14.056 | +1.671 | 34 |
| 12 | Pastor Maldonado | Lotus | 1:14.124 | +1.739 | 42 |
| 13 | Felipe Nasr | Sauber | 1:14.134 | +1.749 | 44 |
| 14 | Max Verstappen | Toro Rosso | 1:14.226 | +1.841 | 35 |
| 15 | Carlos Sainz | Toro Rosso | 1:14.326 | +1.941 | 45 |
| 16 | Jenson Button | McLaren | 1:14.644 | +2.259 | 37 |
| 17 | Marcus Ericsson | Sauber | 1:14.772 | +2.387 | 38 |
| 18 | Fernando Alonso | McLaren | 1:15.129 | +2.744 | 10 |
| 19 | Will Stevens | Marussia | 1:16.501 | +4.116 | 35 |
| 20 | Alexander Rossi | Marussia | 1:16.787 | +4.402 | 35 |
Photo credit: Mercedes AMG Petronas Formula 1 Team