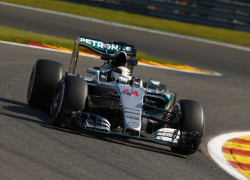 Lewis Hamilton easily claimed his 10th pole position from 11 races topping qualifying ahead of the Belgian Grand Prix.
Hamilton set not one, but two, laps fast enough to take the top position during Q3 and finished the session almost half a second ahead of his team mate with a time of 1:47.197.
Team mate Nico Rosberg, who made a mistake at Stavelot on his first lap did manage to improve on his second run but finished 0.458s down on Hamilton nonetheless.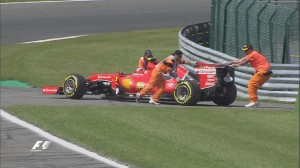 While Mercedes locked out the first row of the Belgian Grand Prix grid as expected, Ferrari had a difficult day on their hands. Kimi Raikkonen was knocked out in Q2 after having to retire his car due to a power unit problem. The Finn himself was unsure whether he would need to replace the power unit but the team will obviously be working feverishly to solve the problem before tomorrow's Belgian Grand Prix. Sebastian Vettel managed only ninth place for no apparent reason at all.
Valtteri Bottas took the third position – 1.3s behind Hamilton with Romain Grosjean qualifying in fourth place. He will be dropping to ninth though due to a gearbox penalty which means that Sergio Perez who finished in fifth place, will start fourth on the Belgian Grand Prix grid.
Daniel Ricciardo will start his Belgian Grand Prix from fifth place, ahead of Felipe Massa, Pastor Maldonado and Sebastian Vettel.
Carlos Sainz Jr. made it to Q3 but could not set any sectors alight on his only flying lap for the session.
Nico Hulkenberg was eliminated in Q2 after locking up at La Source, while Red Bull's Daniil Kvyat was also unable to convert Friday practice pace and finished in 12th position.
Marcus Ericsson claimed the 13th spot for Sauber, with Raikkonen behind him in 14th. According to the team he suffered a drop in oil pressure at Stavelot which saw his Ferrari slowly crawling to a halt.The session was briefly Red Flag to allow Raikkonen's car to be safely removed from the circuit.
Young Max Verstappen chose to not set a Q2 time in order to save tyres on account of the grid penalty he will need to take.
Felipe Nasr failed to make it out of Q1 for the third race in a row after placing 16th, missing the cut-off point by a tenth of a second.
Both McLaren drivers failed to make it through to Q2 in what is really just a torrid time for the team, and both drivers. Jenson Button finished half a second ahead of Fernando Alonso in the intra-team battle at McLaren, but that was still a full second off Felipe Nasr's time.
Both Button and Alonso will drop to the back row of the Belgian Grand Prix grid due to engine penalaties, behind the Manor Marussia duo Will Stevens and Roberto Merhi.
With rain on the cards for the Belgian Grand Prix tomorrow, we are all set for a spectacular race! Follow us for live updates and race banter on Twitter @F1_Madness .