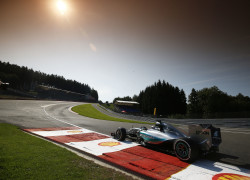 Mercedes' Lewis Hamilton ended the 3rd free practice session for the Belgian Grand Prix on top of the time sheets ahead of his team-mate Nico Rosberg.
Hamilton set the fastest time of 1:48.984 on his option tyre run which was 0.498s quicker than Rosberg who managed a 1:49.482. Hamilton gained almost 2 tenths in the middle sector on his fastest run over Rosberg.
Finishing in P3 was Ferrari's Sebastian Vettel with a time of 1:49.629, just 0.147s off Rosberg's time. Kimi Raikkonen was finished P4 with a 1:49.864.
After a good run on the options Force India's Sergio Perez finished P5. With a long run on the options after setting his fastest time, Red Bull's Daniel Ricciardo ended his session in P6 with a 1:49.980 with his team mate Daniil Kvyat in P7.
Nico Hulkenberg who suffered with under-steer issues throughout the session managed to finish 8th fastest. Both Williams of Valtteri Bottas and Felipe Massa finished 9th and 10th respectively. Despite the lackluster showing, Head of Performance Rob Smedley says that he expects to qualify higher up on the grid.
Toro Rosso's Carlos Sainz ended his session 11th fastest with team mate Max Verstappen in P13. Verstappen battled with grip for most of the session and struggled to find grip.
Lotus had a relatively muted session with Pastor Maldonado ending his session in P12 with team-mate Romain Grosjean finishing in 16th. Grosjean had a little moment with Raikkonen after the Chequered flag dropped when he was on a final timed lap and Raikkonen was coasting back to the pits. Grosjean nearly ran into the back of Raikkonen. He was furious with the incident. "Raikkonen is dangerous, it's very dangerous what he did to me," he said over the team radio.
Felipe Nasr and Marcus Ericsson finished in P14 and P15 for Sauber.
It was not a good morning for McLaren and Fernando Alonso. Although Jenson Button managed to complete a number of laps on the new engine, Alonso was stuck in the garage and could not complete a timed lap. After an installation lap it temperatures on Alonso's car started to increase, the mechanics got to work on the car and it was found that an exhaust gas leak was the cause for the rising temperatures. The McLaren mechanics worked on Alonso's car throughout the session and they are hoping to get the car ready for qualifying.
With a combined 105-place grid penalty for both McLaren drivers, it does not seem as though qualifying will be priority for the team. The focus will turn to the race now.
Will Stevens and Rosbero Merhi finished their session in P18 and P19 for Manor.
| | | | | | |
| --- | --- | --- | --- | --- | --- |
| Pos | Driver | Car | Time | Gap | Laps |
| 1 | Lewis Hamilton | Mercedes | 1:48.984s | – | 15 |
| 2 | Nico Rosberg | Mercedes | 1:49.482s | +0.498s | 19 |
| 3 | Sebastian Vettel | Ferrari | 1:49.629s | +0.645s | 17 |
| 4 | Kimi Raikkonen | Ferrari | 1:49.864s | +0.880s | 19 |
| 5 | Sergio Perez | Force India/Mercedes | 1:49.866s | +0.882s | 15 |
| 6 | Daniel Ricciardo | Red Bull/Renault | 1:49.930s | +0.946s | 20 |
| 7 | Daniil Kvyat | Red Bull/Renault | 1:49.980s | +0.996s | 19 |
| 8 | Nico Hulkenberg | Force India/Mercedes | 1:50.000s | +1.016s | 15 |
| 9 | Valtteri Bottas | Williams/Mercedes | 1:50.179s | +1.195s | 15 |
| 10 | Felipe Massa | Williams/Mercedes | 1:50.447s | +1.463s | 15 |
| 11 | Carlos Sainz | Toro Rosso/Renault | 1:50.552s | +1.568s | 20 |
| 12 | Pastor Maldonado | Lotus/Mercedes | 1:50.585s | +1.601s | 17 |
| 13 | Max Verstappen | Toro Rosso/Renault | 1:50.599s | +1.615s | 21 |
| 14 | Felipe Nasr | Sauber/Ferrari | 1:50.690s | +1.706s | 17 |
| 15 | Marcus Ericsson | Sauber/Ferrari | 1:51.054s | +2.070s | 20 |
| 16 | Romain Grosjean | Lotus/Mercedes | 1:51.187s | +2.203s | 18 |
| 17 | Jenson Button | McLaren/Honda | 1:51.981s | +2.997s | 12 |
| 18 | Will Stevens | Marussia/Ferrari | 1:54.262s | +5.278s | 16 |
| 19 | Roberto Merhi | Marussia/Ferrari | 1:54.281s | +5.297s | 9 |
| – | Fernando Alonso | McLaren/Honda | No Time | – | 1 |
Photo credit: Mercedes AMG Petronas Formula 1 Team