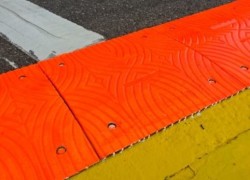 The FIA has removed the new orange sausage kerb at the top of the Eau Rouge-Raidillon complex, following complaints from drivers after Friday's practice sessions at the Belgian Grand Prix.
The kerb had been installed to deterA kerb was installed prior to the race weekend in order to deter drivers cutting the corner. However, after F1 Friday practice and a GP3 practice session that saw a car go airbourne trying to avoid the kerb, the FIA decided to remove it.
The kerb was removed ahead of Saturday's third practice session, but the FIA has warned teams that the stewards will investigate any incidents where a driver exceeds track limits and gains an advantage.