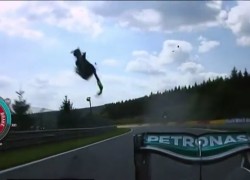 Pirelli has issued a press release saying that an external cut into the tyre structure is most likely the cause for the tyre failure which sent Mercedes driver Nico Rosberg into a high speed spin during the second practice session ahead of the Belgian Grand Prix.
Rosberg's tyre failed on the approach to Blanchimont and he spun aross the track before coming to a stop in the run-off.
Pirelli has stated that thorough overnight investigations into the cause of the tyre failure, Pirelli is confident that the failure was not caused by any structural integrity issues.
"We have conducted a thorough investigation to find out exactly what happened with Nico's tyre," said Pirelli's Paul Hembery.
"This investigation now excludes any structural integrity issues. Based on the information and data available an external source of damage is the conclusion made."
Quality data checks on other tyres has also shown no anomalies.