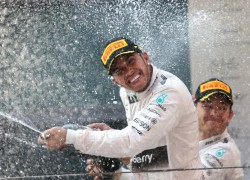 Mercedes driver and current Formula One World Championship leader Lewis Hamilton believes that he has the psychological edge over his team mate Nico Rosberg in their battle for the Drivers' Championship title this season.
The defending world champ was accused of compromising Rosberg's race during the Chinese Grand Prix this past weekend and responded smugly during the post race press conference. Following Rosberg's ongoing claims, Hamilton said that he's always thought of Rosberg as being a strong mental contender but that he has the edge over his team mate this season.
"I've always said he is really strong mentally," Hamilton said. "But I'd like to think I'm stronger this year."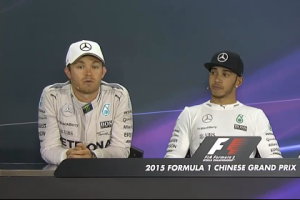 Rosberg claimed that Hamilton deliberately slowed down during the race, making him vulnerable to attack from Vettel behind him. It would seem that Ferrari's new pace has caught even Rosberg by surprise and that the German driver could think of no other reason why Vettel would be breathing down his neck.
Lewis however disputed the claims saying that it is "not my job to look after Nico's race". Hamilton made it clear that he was controlling his pace up front to ensure that he was looking after his tyre usage and that he'd have enough tyre left to maintain his lead. Lewis made it clear that if Nico wanted to pass him, he should have tried. "If I'd been second, with lots of pace, I'd have been pushing to get passed, but Nico didn't," Hamilton said.
"Take a step back. It's racing. I wouldn't have sat back two seconds to get to the end of the stint, I'd have tried to get passed."
After much to and fro, plenty of media focus and a team debriefing, Rosberg announced that their disagreement is now a "thing of the past" and that they will "move forward". Mercedes F1 boss Toto Wolff also called an end to the dispute saying that there was no doubt in his mind that Lewis Hamilton "didn't do it on purpose".
"Nico was in trouble, he couldn't get near Lewis because he needed to protect his tyres and Sebastian was increasing his pace. So it is understandable from both."
It would seem that we're good to go to move on from the litle fiasco but you can bet your bottom dollar that this team mate rivalry is far from over! It's Lewis Hamilton vs Nico Rosberg and you better get your popcorn ready!
Photo credits:
Lewis Hamilton, Chinese GP Podium Celebrations: Courtesy of Daimler, Mercedes AMG F1
Lewis Hamilton, Nico Rosberg, Post-race press conference: Screen capture, Sky F1